How To Generate Tons Of Free Targeted Traffic
4/16/2013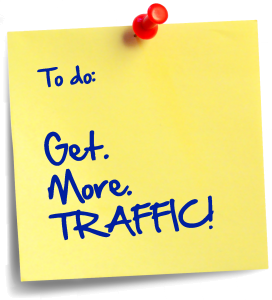 Follow these steps and you will get tons of free traffic...
Figure out what niche your site is, and what search keywords relate to it. i.e. css-tricks.com related keywords would be - css, web design, php, javascript, snippets, etc.
Visit Google alerts: Google Alerts - Monitor the Web for interesting and unique new content.
Where it says search query, type in one of your keywords. For "result type", choose "discussions". For "how often", choose "as it happens". For "how many" choose "all results". For "deliver to", choose "your email". And click "create alert". Repeat this process for all of your related keywords.
What did we just do? Now google will send you a notification every time a new post, or topic is created in a forum or discussion site.
Whenever you get these email notifications, open them up, follow the link, and make a non-spammy post or reply to the discussion. Make sure you have a signature link - as that is how you will be getting your traffic. And if the site allows it, say something like "check my sig if you want to see more".
Now when people read these discussions they will see your post and click on your link. This works and this traffic is SUPER targeted!
Need help adding this or other code to your website? Post it here in the forum!