50 Ways To Build Backlinks Fast And Easy
4/07/2013
Google you asked for it! I present...
BACKLINKS FROM HELL!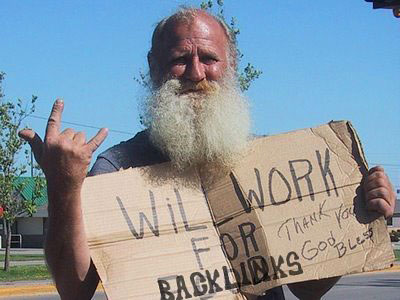 Sign up for Google's Webmaster Tools and Bing Webmaster tools and read up about nofollow and dofollow links.
Get the seo toolbar from seobook.com. Or the WebRank Toolbar here. Like webmaster tools, it won't help you get backlinks but it will help you take care of them.
Add your free dofollow backlinks here at Picnic Website Code Tutorials. Or Donate a couple bucks to websitecodetutorials.com and get a backlink on all my tutorial pages.
Keep track of your backlinks in order to know where to point your efforts.
Find other sites in your niche and invite them to partner with you. Each of you can add each others links to your blogroll.
Leave meaningful comments on other blogs and include a link to your site - preferably dofollow ones.
Receive the title of top commentor and get your backlink on every page of their site.
Add your site to directories. Free: R-TT Directory, So Much, Ranking Directory, Directory World, Net Insert, All The Websites, MavicaNET. Paid: Family Friendly Sites, Ask Bee, DirBull.com, DMOZ, Yahoo! Directory (expensive but worth it).
Get Angela's high pagerank backlinks - 20 PageRank 8 and 9 backlinks for $10. I bought it. It's legit.
Subscribe to Angela's 30 monthly high PR backlinks for $5 - based on the responses at WarriorForum it's also legit.
Software Submissions. Old school SEO tactic that works. Most software submission sites have backlink profiles like (PR8). Like CNET.com. There are many other software sites you can submit to like... FileDudes.com (PR5), DownLoadJunction.com (PR5), SoftAward.com (PR4), SoftTonic.com (PR6). You don't need to create an open source operating system to get your software (and link) on these directories. Most of these directory accept video game submissions. Head over to Sploder.com (free) and make an easy puzzle game. Save it as an .exe or PAD file and submit it.
Follow Pat Flynns Method of building backlinks.
Free one-way backlink from nickstraffictricks.com
Write quality content which attracts 1000 times the traffic and builds links naturally.
dropmylink.com helps you use Google to find thousands of sites to drop your links on and create backlinks.
Submit Your Site to Website Feedback Sites. Most of them allow a dofollow link back to your site. To get a link from these sites all you need to do is submit your site with a little description of how you want to improve it. Here are some Website Feedback Sites to get links from... ConceptFeedback.com (PR5), ABTests.com (PR5), BounceApp.com (PR5), SuggestionBox.com (PR4).
The massive dofollow backlink list
Easy EDU Links. How to tut. It's commonly accepted knowledge that .EDU and .GOV backlinks are valued very highly when Google decides on your search rank position. The "trick" is finding blogs and forums on .EDU domains, where they can leave useful comments that link back to their sites. Here is a great Google query to find .EDU blogs. Google... site:.edu inurl:blog "post a comment" -"you must be logged in", site:.edu "your niche", site:.edu "your niche" + "resources", site.edu: "your niche" + "links", site.edu: "your niche" + "other sites".
How to find CommentLuv enabled blog comments - AKA nofollow backlinks.
Submit Your Site to Blog Aggregators. You can get a dofollow link on most blog aggregators for free. Just submit your site, add some code to a post to confirm you're the owner and wait for someone from the aggregator to stop by and take a look at your site. When they approve it you'll have your own page on the aggregator with a dofollow link to your site. Easy peasy. Here are some blog aggregators to submit to... Technorati.com (PR8), Alltop.com (PR7), Blogarama.com (PR6), Liquida.com (PR5)
Guest post on another site is a great way to get a quality keyword ridden backlink.
Be at ease when people steal your content instead of mad. Inter-site-link more within your articles and make these links absolute links. This way half the people that steal your content verbatim will also include these backlinks to your site. Good way to hedge your bets.
Build a Blog Network. A high quality blog network is one of the best SEO investments you can make. You're in the driver's seat and can funnel massive amounts of link juice wherever you want. If your worried about Google finding out you can take the following precautions... Private whois information, different hosting plans (NOT different IPs…completely different hosting from different companies), different themes and designs, different permalink structures, different content management systems (Drupal, WordPress, Joomla etc.) Everything in moderation. If you don't go too crazy linking a hundred times in each of your blogs I would not worry about the extra precautions. A couple links here and there is plenty and is not going to deindex you.
Interview someone in your niche. They'll likely link to the interview and tweet about it because it makes them feel important.
Create good flashy titles and headings. Doing so will promote others linking to your article - given it's good of course.
See where the competition is placing their backlinks. Just look at the top 10 results for your keyword phrase and figure out where their back links come from?
Get a back link by helping out reporters that are looking for experts in your field. http://www.helpareporter.com. Major international media outlets like MSNBC.com and The Huffington Post use HARO to find sources for their articles.
Yahoo answers – You can get backlinks by responding to questions.
Buy links on sites offering such. My site is one such example where you can buy a link. Or use texlinkbrokers.com.
You can get a backlink from posting in Youtube video comments section.
Find Guest Posting Gigs on Twitter. You can tap into the underutilized power of Twitter search to find sites that are posting guest posts on the reg. You KNOW that the sites that have tweeted their guest posts in the last week must be posting on a regular basis. Here are some search strings to use in Twitter search... "your nice" + guest post, "your niche" + guest author, "your niche" + write for us, "your niche" + guest article.
Go crazy at all the social bookmarking sites.
Set up an RSS Directory for you site.
Go crazy and add links back to your sites in all the social media channels.
Give testimonials whenever you buy a new product, service, membership, or anything else online, leave a testimonial. Testimonials will commonly have a link to your website within them to prove the testimonial is real. This will give you a free backlink if the company likes your testimonial and uses it on their website. Give testimonials even if you didn't buy the product. You should have a fair amount of knowledge about the product so you can write a good review of course. Companies big and small LOVE to show off their customer testimonials. When you do write one, make sure to tell them that they can put it on their homepage or a testimonial page. To show that you're a real person they'll often put a link to your site for you…without you even having to ask. When you see an authority site with testimonial links you could buy their product or service just to give a testimonial and get a link.
Tap all your friends and acquaintances for backlinks. If they won't do it they're not your friend.
Link bait - here are 20 link baiting ideas.
Web 2.0 Profiles that allow you to create profiles and interact with others provide high PageRank, "do follow" links to the website listed in your profile. Examples include www.linkedin.com, www.flickr.com, www.twibs.com, and www.zoominfo.com.
Article submissions at the likes of ezinearticles.com and etc with your link/info at the end of it.
Get backlinks from Google itself.
Submit to Audio Sharing Sites. These audio sharing sites are PR powerhouses and can move your site in the SERPs. Create a piece of audio (preferably music) and upload it to these sites, which give you a nice dofollow link in exchange: Examples are... Reverbnation.com (PR6), BandCamp.com (PR7), Sutros.com (PR5), MobyPicture.com (PR5)
Buy Expired Domains at GoDaddy Auctions, SnapNames or NameJet. Buy a aged domain with quality links pointing to it. Then 301 redirect it to your new site. Apparently this technique is gold.
Donate to Charity. There are A TON of dead broke PR6+ site owners that will gladly hand over a link in exchange for a few bucks. You can find some on your own by using these search strings... "donate to us", "contributors page", "sponsors page", allintitle: "contributors", allintitle: "sponsors".
Using Fiverr network, find a webmaster or other who is selling a contextual link on his site who has as high PR and many backlinks. Finding these is easy. Type these into Fiverr's search field... "I will post your content", "guest post on my", "I will post your article".
Forum signatures. Most forums allow you to post a link to your site in the signature section.
Test out the hundreds of Guestbook demos. You can add your backlink to each.
Scoop It Get dozens of high PR links with a few minutes work. Scoop It is a site where people aggregate their favorite content around the web into a magazine format. Get people to post your site by using Scoop It's built in suggestion feature. Search for a high PR Scoop It page and hit "suggest". Send the person a quick message and let them know about your content.
Infographics. Get a halfway decent infographic made from someone on Odesk or Elance for less than $75. Be creative, make something unique and then hire someone on the cheap to make it DIY-style via Piktochart. Submit it to infographic sharing sites, like these... Visual.ly (PR7), DailyInfoGraphic.com (PR5), AmazingInfoGraphics.com (PR4), OmgInfoGraphics.com (PR3). Then reach out to bloggers in your niche and offer them the infographic as a guest post.
Resources link building. Using your niche search in Google using these search strings... "niche" + "resource page", "niche" + "resources", "niche" + "recommended sites", "niche" + "links". Now email them and just ask for a link.
PS... And you can always purchase dofollow backlinks from me!
I think that's about it. Did I miss any?
Credit for 17 of them here - And the other 33 from here.
Need help adding this or other code to your website? Post it here in the forum!